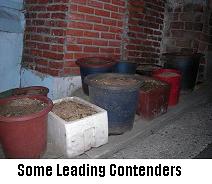 National Flower Pot Chosen
The Korean Horticultural Association announced the results of a poll that asked the public to choose a "national flower pot" in order to accompany Korea's national flower, the rose of Sharon (mugunghwa). The association spokesperson, 47 year-old Mr. Hwang Ki-Eup, announced that the winner was a large blue plastic pot. "Every country has a national flower, but we are the only country with a national flower pot.
The blue plastic pot narrowly beat out the second-place contender, the rectangular styrofoam container. Others that garnered numerous votes were the red plastic pot, wooden crates with plastic lining pot, and the upside down bottom-cut-off plastic water bottle pot.
Posted by theyangpa at 12:59 PM JST
Updated: Thursday, 15 June 2006 6:46 PM JST